---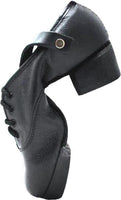 Rutherford Ultra Lite Irish Jig Shoe
All shoes are sold in UK sizes.  Please scroll to the bottom of the description for fitment tips. 
Introducing the new, improved ULTRA-LITE jig shoe with Soundblaster Heels and Tips!

Virtually no break-in!  Constructed with super soft leather and a black suede Ultra-Lite sole for easy flexibility.  Fitted with the world famous Rutherford Soundblaster Heels and Tips, these shoes are the loudest and the lightest jig shoe on the market today. Popular with advanced dancers, these are not recommended for beginners to hard shoe.
Excellent for toe walking
Extremely easy to break in
Soundblaster heels and tips
ULTRA-LITE flexibility
Narrow width is available in sizes 13-7 and wide width is available in sizes 13-9.5.  
Please note when ordering if you require a narrow or wide width instead of the standard medium width. Narrow and wide widths are special order and will require 5-7 days from order to be shipped.
All sizes are in UK sizes.  The Rutherford sizing chart reflects the actual inner length of the shoe rather than the length of the foot - so after measuring your foot please add as much length as you think you'll need for a comfortable fit before determining your size based on the chart.  You can also measure the inner length of a shoe that already fits you well with a soft measuring tape.
 Click here for instructions on how to take an accurate foot measurement.  
 For more fitting tips, visit our Find Your Fit page.  If you're unsure, we recommend ordering a few sizes to try and then returning the ones you don't need.  Please be aware of our Return Policy
Rutherford Inner Shoe Length in inches
| | |
| --- | --- |
| 13 | 8 1/4 |
| 13.5 | 8 3/8 |
| 1 | 8 1/2 |
| 1.5 | 8 5/8 |
| 2 | 8 3/4 |
| 2.5 | 8 7/8 |
| 3 | 9 |
| 3.5 | 9 1/8 |
| 4 | 9 3/8 |
| 4.5 | 9 1/2 |
| 5 | 9 3/4 |
| 5.5 | 9 7/8 |
| 6 | 10 |
| 6.5 | 10 1/8 |
| 7 | 10 3/8 |
| 7.5 | 10 1/2 |
| 8 | 10 3/4 |
| 8.5 | 10 7/8 |
| 9 | 11 |
| 9.5 | 11 1/4 |