---
The Hullachan 3 has been designed from the ground up to protect and enhance a dancer's performance and reflects the increasing demands of today's Irish dancing.
The Hullachan 3 uses new materials to cushion and protect Irish dancers from injury and offers dancers an innovative lacing system designed to offer excellent arch support and a beautiful arch profile.  
NEW ARCH EYELET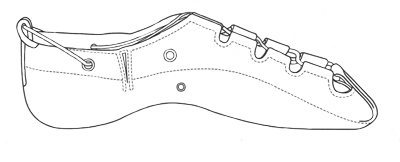 Hullachan have introduced a secondary eyelet closer to the arch of the foot. This allows dancers to use the laces to pull the arch of the pump up, so it fits snugly and securely along their own arch which acts to support and showcases it on stage.
Some dancers with high arches have struggled in the past to get a pump to support them and highlight this feature of their feet but not longer! Even if you have high arches you will get the support you need.
The secondary eyelet also allows the dancer to tie the pumps like a normal pair of shoes without the need to circle the laces around the arch.
Dancers need to demonstrate defined strong arches on stage especially at higher levels when every detail counts. A good arch profile is diffiicult to showcase to adjudicators if that area is filled in with laces.
CLEVER INSOLES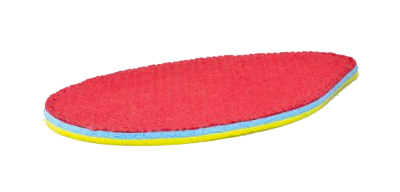 The Hullachan 3 are fitted with Clever Insoles.
Clever Insoles are made from a combination of hi-tech materials new to Irish dance which protect and cushion your feet and joints.
They absorb 90% of impact shock from leaps and advanced footwork and are a real improvement over standard Irish dance insoles currently available on the market.
The insole is covered in a wick away Camberelle lining removing the chance of the poron cracking or tearing due to age.
OTHER FEATURES
4mm higher at the back with a deeper heel seat so they feel secure around the heel so you can enjoy your dancing without fear of them slipping off.
A seam free toe for an extra comfortable fit around the toe area.
Softer leather than the H1 to allow for a slight stretch over time for an improved fit and point.
Hullachan signature red suede lining for that extra touch of elegance!
15g lighter than the H1
This shoe is sold in UK sizes, not US sizes. 
All sizes are in UK sizes.  If you don't know your size, please refer to the measurement chart below to help find a good fit. Click here for instructions on how to take an accurate foot measurement.  
If you like a more comfortable fit or you have a wider foot, please size up 1/2 to 1 full size!  The sizing chart is meant to give you an extremely tight fit. For more fitting tips, visit our Find Your Fit page.  The foot measurement recommended by Antonio Pacelli DOES NOT indicate the length of the shoe as they should be tight enough that your toes are curled under when they are first worn.  If you're unsure, we recommend ordering a few sizes to try and then returning the ones you don't need.  Please be aware of our Return Policy.