---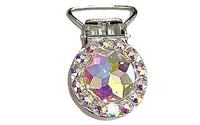 Beautiful circular number clip with a large circular central AB diamante surrounded by smaller diamantes.
The central diamante is multi-faceted to give a fantastic on stage sparkle.
Combine with our Champion jig shoe buckles for the complete look.
Fix your competition number securely to your Irish dance costume with this eye catching number clip and give your costume a stylish boost.
Width 22mm