---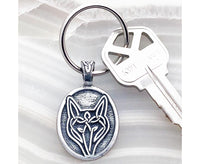 Hand cast lead-free fine pewter with steel keyring. Approximately 7/8″ wide and 1 3/8" tall. Inscription on the back: "Live bold, trust your instincts"
Celtic knotwork patterns have been used for centuries as symbols of connection, protection, and good luck. The Wolf symbolizes intelligence, freedom, and following your instincts. This is a deceptively simple knot incorporating a wolf's markings to create a stylized human figure in the center of the piece - Do you see the person's head, arms, and body, hidden in the design?
All CelticKnotWorks pieces are proudly handcrafted in the USA.