---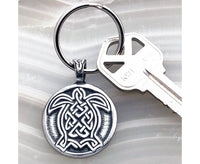 Hand cast lead-free fine pewter with steel keyring. Approximately 1″ wide and 1 3/8" tall. Inscription: "Life is a journey. Journey well!"
Celtic knotwork patterns have been used for centuries as symbols of connection, protection, and good luck. The Turtle is a symbol of grounding and safety.
All CelticKnotWorks pieces are proudly handcrafted in the USA.