---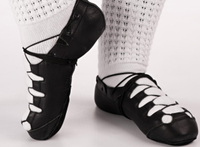 Fays Celtic Choice Dance Pumps are the latest in technology with an ultra flexible suede split sole design and special arch stitching which emphasizes the dancers natural arch. For comfort, Celtic Choice have no seam which reduces friction and irritation around the toe area, and refined heels which hug the shape of the heel not allowing for any access room in these areas so the pump feel secure during movement. Really heavy shock absorbing with this ultra flexible black suede sole and full cushioned Poron insole between inner and outer sole to protect your feet. Suitable for all levels, recommended for championship dancers and show dancers.

Highest quality Irish Dancing Pump design with 100% strong leather upper and sole for comfort and durability.

All Pumps are fitted with full cushioned Poron insoles (between the inner and outer sole), for cushioning and heavy shock absorbing on the heel and metatarsal areas to protect the feet.

Well fitting pump with perfect foot shaping
All sizes are in UK sizes. Please refer to the size chart below to help determine your size.  This chart is specific to Fay shoes.

If you like a more comfortable fit or you have a wider foot, please size up 1/2 to 1 full size.
 For more fitting tips, visit our Find Your Fit page.  When new, your ghillies should be tight enough that your toes are curled under when they are first worn.  If you're unsure, we recommend ordering a few sizes to try and then returning the ones you don't need.  Please be aware of our Return Policy.