---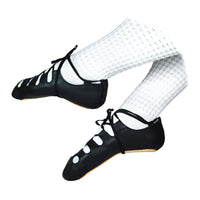 The Antonio Pacelli Loop ghillies have been discontinued by the manufacturer!  We have limited sizes still available.  If you normally wear the loop ghillies but your size is no longer available, we recommend the Rutherford Leather Sole Ghillies as the best alternative, or the Antonio Pacelli Gazelle.
Traditional Irish dance pump. 
Leather upper and full leather soles
Our most popular Irish Dance shoe!

The Loop style shoe has elasticized side loops under the ankle to help ensure a nice, snug fit. These are great, sturdy shoes for the beginner to intermediate dancer. Your child is not likely to wear them out before she outgrows them! 
 
Traditional design

Leather uppers

Full length leather sole

Elasticized side loops
The shoe should fit snug when first worn, with toes just slightly curled. The high quality leather will stretch as the shoe is worn to become a perfect fit. 
This shoe is sold in UK sizes, not US sizes. 
All sizes are in UK sizes.  If you don't know your size, please refer to the measurement chart below to help find a good fit. Click here for instructions on how to take an accurate foot measurement.  
If you like a more comfortable fit or you have a wider foot, please size up 1/2 to 1 full size!  The sizing chart is meant to give you an extremely tight fit. For more fitting tips, visit our Find Your Fit page.  The foot measurement recommended by Antonio Pacelli DOES NOT indicate the length of the shoe as they should be tight enough that your toes are curled under when they are first worn.  If you're unsure, we recommend ordering a few sizes to try and then returning the ones you don't need.  Please be aware of our Return Policy.
Loop Size

Foot Measurement
(mm)

7
150
7.5
154
8
158
8.5
161
9
166
9.5
169
10
172
10.5
179
11
183
11.5
187
12
194
12.5
198
13
203
13.5
208
1
212
1.5
216
2
220
2.5
224
3
228
3.5
233
4
236
4.5
239
5
242
5.5
245
6
250
6.5
255
7
260
7.5
265
8
270
8.5
275
9
280
9.5
283
10
286